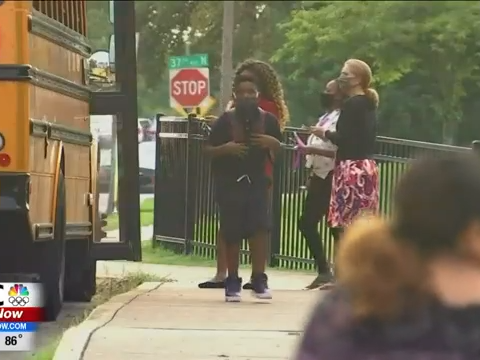 OREGON – School is back in session. While summer is gone, COVID is not. The Oregon Health Authority held a press conference with Governor Kate Brown to discuss how to keep kids safely in in-person school in spite of rising COVID cases.
Precautionary measures like wearing masks around people outside of your household, maintaining social distance, limiting large gatherings as much as possible (and if you are in a large gathering to try to conduct them outside), and of course, getting vaccinated.
"Getting vaccinated is the single best thing a person can do to prevent their own sickness and death, and protect others from the virus." said Dr. Dana Braner; Physician-in-Chief of OHSU Doernbecher Children's Hospital.
"I have had the privilege of seeing children and families in both their darkest and best moments. And in all of my 32 years of working I have never seen a mental health crisis as bad as this one." he continued.
Whit is why Dr. Braner and other health officials in the Oregon Health Authority agree they desire and need to keep children learning in-person in school. For their overall mental, social, and educational health and well being. But it cannot be at the expense of their or their teachers' health.
"We need you to do your part to protect this school year." says Colt Gill; Director of the Oregon Department of Education.
Statistics show that a lack of following safety protocols will undoubtedly bring rising cases. In fact, Dr. Dean Sidelinger, the Oregon State Epidemiologist, said that there were 16,252 new COVID cases marking the 8th consecutive week of rising cases in Oregon. However, data as recent as the last few days are showing a slight decrease once again with the number of vaccinations starting to increase again.
"Hospitals have reached the saturation point. Our health system is not able to provide care to anyone arriving at our doors. That means fewer beds for anyone experiencing a medical incident not just COVID-19 but because of other medical problems, like a heart attack or injuries from a car crash." said Dr. Sidelinger.
This can affect hospitals to delay surgeries and other non-covid related care and make health emergencies go elsewhere.
Which undoubtedly can negatively affect child health care. And with schools back in session, with the exception of some severe cases, it is less likely for children to get severe COVID symptoms. However, teachers can spread COVID to their non-vaccinated younger students, hence the mandate for teachers to get vaccinated.
"Your child can also spread it to other adults and their teachers or school personnel." said Dr. Braner.
Which is why Oregon health and education leaders say it is imperative for everyone to make the communal effort to make the state and country a safer and COVID-safer environment, in order to keep children safe, healthy, and in school.
"This is a crisis that is largely being driven by people who have not yet been vaccinated against COVID-19." said Dr. Sidelinger.
For more information on what your schools are doing COVID-wise, go to oregon.gov/readyschools
Source: NBC Right Now