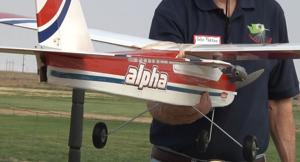 RICHLAND, WA-
The Tri-City Radio Control Modelers (TCRCM) hosted a learn to fly day alongside Hobby Town and Horizon Hobby on Saturday.
Rob Skiba is a Member of TCRCM & A brand ambassador for Horizon Hobby.
"Its aviation its math its electronics its science. It's a great hobby to learn things while not knowing you're learning stuff," said Skiba.
That's what it's all about–learning. The hobby isn't just for experienced club members, it's for anyone who wants to try their hand at flying.
John Patton is the President of TCRCM.
"That's our objective today. Just to show the full range of model aviation, hopefully, spark some interest in some folks, and if it's what you want to do we're here to help you get started," said Patton.
Members of TCRCM are always willing to teach people how to fly. There were some newcomers who learned to fly with some of the more seasoned members.
"To see them smile after they've had an opportunity to fly their airplane and experience something new for the first time, I enjoy that a lot," said Skiba.
Since technology and R/C planes are always changing, this hobby is a lifelong learning opportunity.
"This is a hobby that you can grow into over the years. In fact, many of our members here started as young people. Teenagers or even younger. And then grew in it. And now here they are in their 70s still doing it," said Patton.
Learn more about the Tri-City R/C Modelers here.
Source: NBC Right Now