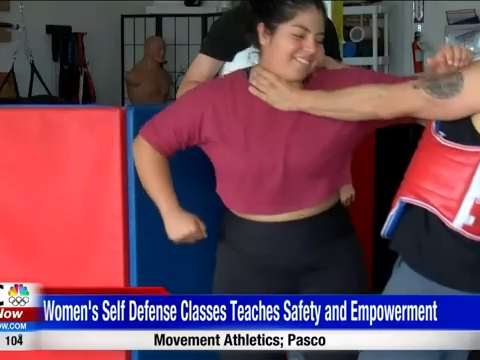 PASCO, WA – Movement Athletics, a gym in Pasco, provides classes including ninja camp for children, karate, workout classes for seniors and especially women's self defense classes. Over the course of 90 minute classes for 6 weeks, local women (both in person and online) learned techniques on fighting off an attacker, being aware of your surroundings, and how to use your voice to protect yourself.
"I am passionate about self defense for all people. But we specifically created this class geared toward women just because they are more likely to be victims of sexual assaults, rape, or robbery. Especially with so many issues going on with stalking and mental health." said Pedro Torres, class instructor and leader of Movement Athletics.
According to one survey, women ages 16-24 are three to four times more likely to be victims of rape, attempted rape, or sexual assault than the general population. Additionally, the Washington Department of Health reports that 1 in 8 Washingtonians have experienced partner violence for both men and women.
The class included teaching women tactics to fight attackers using different scenarios; for example: when a women's hair is pulled, when someone grabs you from behind, when you're in a chokehold, or even when someone tries to steal your purse.
"Especially if someone is trying to steal your purse, just let them go." said Torres.
Torres and his colleagues including his own taekwondo teacher and Vietnam war veteran, Master Berry, trained the women while wearing protective gear during the reenactment of scenarios in order for these women to utilize their fighting skills.
Master Berry started one of the first women's self-defense classes 33 years ago in Mesa, Washington. This is now the first self-defense class held by Movement Athletics.
"When I was growing up, nobody talked to me about girls or how to treat them. I want these women to know how to protect themselves and that we also teach our boys to treat women right." said Master Barry.
Women like Blanca Garcia and Livier "Bibi" Palomino found confidence and empowerment in their class.
"I was in a situation in high school where people locked me in this box in the football stadium and they were laughing at me and telling me they wouldn't let me out until I flashed them. And I didn't tell my parents about that because I was too shy." said Palomino.
Now, Palomino vowed that would not happen again.
"By taking this class, I discovered something within myself I didn't know I had. My voice." said Palomino. She also brought her sister along in order for her to learn how to defend herself as well.
Additionally, Blanca Garcia who is originally from South Central LA, grew up in what she calls "a dangerous situation" where she constantly had to defend herself.
"For 24 years I was used to defending myself. I have had gangs try to rob me and people try to break into my house. Now, I want to have the actual techniques." said Garcia.
And now she does. An important fete for her considering she is a mother.
"I used to defend myself but now I have kids so I do it for them." said Garcia.
Torres and the other sanseis also teach the women to use their voices, not being afraid to scream or say no.
"It's so empowering to know that women don't have to just take it and stay quiet. We can use our bodies and voice to have confidence, empowerment, and defend ourselves and not allow anyone to take advantage of us." said Palomino.
For more information, visit Movement Athletics on their website. Sign up for the next self-defense workshop here.
Source: NBC Right Now