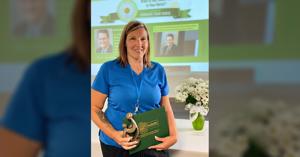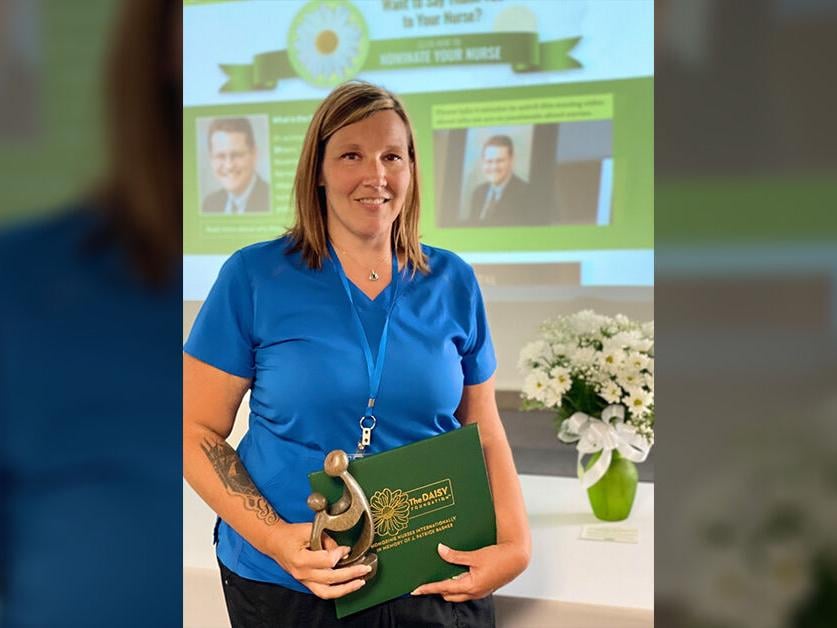 PASCO, WA – Lourdes Health chooses Debra Mains, a Registered Nurse on the PACT Team at Lourdes Counseling Center and interim Substance Use Disorder Professional, as a recent recipient for The DAISY Award® for Extraordinary Nurses at Lourdes.
"Debra stands out as someone who goes above and beyond her call of duty to support and address underlying life threatening medical conditions," said Kena Chase, Lourdes Chief Nursing Officer. "She is full of compassion and advocates for her patient's needs. We're grateful to be able to recognize her in this way."
Debra works with severely mentally ill patients in her role. The anonymous nomination for Debra relayed examples of how Debra has sat with patients in the ER and ICU, even on her days off, as well as how she advocates for her patients to see primary care providers and specialists for their ongoing needs.
"She is there for patients when they need it most, and she's not afraid to step up," Chase said. "We are very fortunate to have Debra on our team, working tirelessly for our patients."
The DAISY Award® is an international program started in memory of J. Patrick Barnes, whose family experienced first-hand the difference his nurses made in his care through clinical excellence and compassionate care. The family created The DAISY Award® to express gratitude to nurses and to enable other patients, families, and staff to thank and honor their special nurses.
To nominate a nurse or to learn more about The DAISY Award®, visit YourLourdes.com/Daisy.
Source: City of Pasco