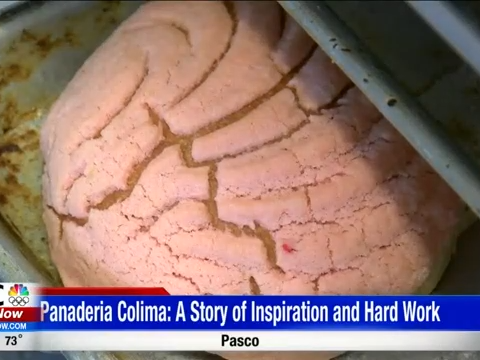 PASCO, WA – Daniel Alcaraz Mendoza started his pan dulce (Spanish for sweet bread) shop, Panaderia Colima, in Pasco more than 15 years ago. After closing down his business due to personal reasons for more than a decade, Mendoza has been running a reopened Panaderia Colima for the past two years. But the pandemic has made business slow.
"I'm working very hard to keep my business open and functioning. I wouldn't be able to do it without the loyal customers I have and my family." said Alcaraz-Mendoza.
Even as Mendoza tries to apply for licensing to be able to accept food stamps from his clients and other small business grants, he says he still has not heard word on these documents.
Nonetheless, hard work and overcoming obstacles is nothing new to Mendoza.
"I went from having everything to ending up homeless, sleeping under the bridge that connects Kennewick to Pasco." said Mendoza. "There I slept in a little cave."
During this time, post-divorce, he also struggled with drug and alcohol addiction.
"But for four years. I haven't touched that stuff and I've been sober ever since." said Mendoza. "I realized what's important in life, it's not money or anything else, it's leaving a good legacy for my community and kids."
"He is such a good man who cares for everyone and all of his customers so much." said one of his workers, Sonia.
"I'm living proof that it's all going to be okay. If you find yourself in the same place I was, you can make it. Just keep working hard and wake up! There is a God and He is real, who is in the air, the land, the water, and has control over all our lives. It's because of God that I'm here alive." said Mendoza.
Mendoza shared his gratitude for the local community and business leaders for mentoring him and helping him start his business back up. But would appreciate and love more business in order to stay financially stable.
"We sell fresh bread, everything made by hand. This isn't my business, it's the community's business. Because it's for their enjoyment." continued Mendoza.
Panaderia Colima is located at 801 W Clark St Suite A, Pasco, WA 99301
Source: NBC Right Now