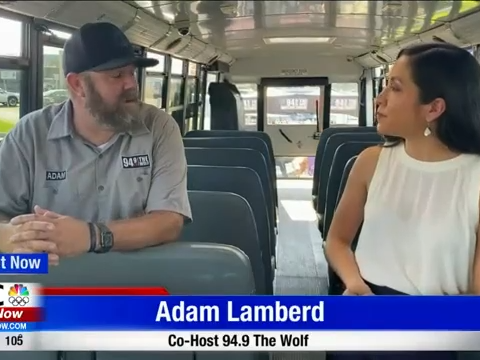 KENNEWICK, WA – 94.9 The Wolf, with its sponsors, has kicked off their Burst-A-Bus school supply drive Wednesday and will last until this Saturday, August 14th.
Morning hosts of 94.9, Adam Lambert and Jen Little, have sponsored this cause for the past six years.
"We feel a burden on our heart to make sure every kid in Tri-Cities has school supplies for the beginning of their school year," said Lamberd.
To help donate, you can drop off any school supplies or monetary donations from 6 AM to 6 PM Thursday and Friday and 8 AM to 6 PM on Saturday. On Monday, August 16th, they will be driving the bus full of donations to S.H.A.K.E. (Seniors Helping All Kids Education) facility in Pasco. The non-profit organization helps provide thousands of supplies to schools in need.
"We have teachers and counselors that are really in touch with us about their kids in need," said Lamberd. "Many of them spend about $600 a year, out of pocket, to help provide supplies for their students and schools."
They encourage anyone to come out to the Toyota Center to donate and take pictures with the bus to raise awareness of this local cause.
"I remember what it was like for me going to school. I was so excited on the first day to have all my school supplies. A child should never be deprived of that, and we have teachers and counselors that just pull kids quietly aside and say 'here, look what I have for you,' and it supplies we collect to give them." said Lamberd.
You can contact Adam Lamberd at [email protected] or call 509-438-1340.
Source: NBC Right Now